In this version we focused on a feature, which is important to all users who are using ManicTime Server on a larger scale. Administrators can now control ManicTime from ManicTime Server. They can:
change the license on all connected clients
change settings on all connected clients
Users will not notice a lot of changes in this version, the biggest change is the License wizard which is shown when the app starts.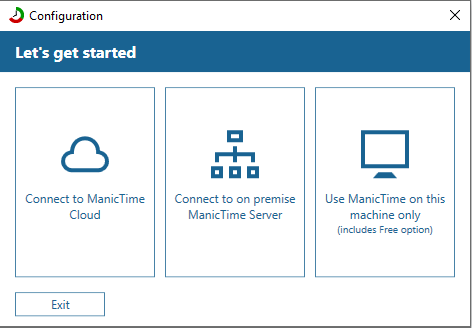 License wizard
The wizard presents three options:
Connect to ManicTime Cloud - if you have ManicTime cloud subscription, you can enter your username and password to connect to the cloud
Use ManicTime on this machine only - if you select this option, you can then choose to use Free version, Trial or input your purchased Pro ManicTime license
Connect to on premise server - license can now come from on premise server. If you are running an older version of ManicTime Server which does not yet support license, then you will be asked to choose either a trial license or to enter your purchased ManicTime Pro license
Once you successfully complete the wizard, ManicTime is ready for use.